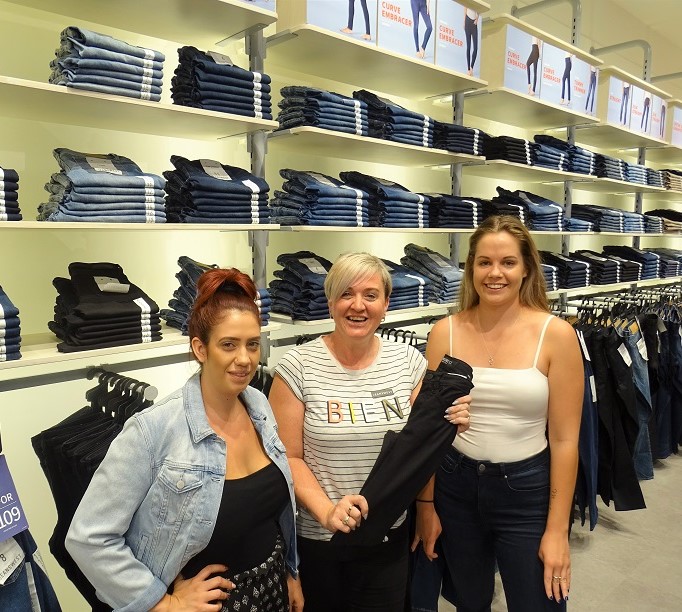 Mandy
Tell us a bit about your shop.
We are your go to denim destination in the shopping centre, we offer a lifetime guarantee on our jeans and can help you find your Perfect Pair. We can make sure the fit is right & can even help outfit the look for an occasion, or help create a go to capsule wardrobe, if its not in store that's not a problem either we can order it from online and you can even use Afterpay in store as a payment method.
What's in season or really popular right now with shoppers?
We have some beautiful bold colours in at the moment to team with your denim & also some soft feminine prints in our range of tops that go from casual to work worthy. In our men's section we have some great coloured denim as well as our core denim, spliced tee's and tailored shirts.
What's your favourite thing in store at the moment?
My Favourite piece in the women's section at the moment is the Natalie Denim Jacket, this has a military look with a slight peplum shape and is super soft and easy to wear, for the guys am loving the new earthy tomes in our coloured denim, they have a great feel and look.
Are you a big or small crew - how many of you in the team? There are 3 of us in the team at the Secret Harbour store, myself, Aleesha & Cora. Being a small team helps us give a more personalised service to our customers.

What are your interests in life? Any hobbies, interests or mad obsessions? I am obsessed with denim so my job fits me well. 😊 When am not working I love spending time with my family or going off exploring new places in WA. I like to relax by reading a book, being on the beach and watching the sunset over the ocean.

So, do you think your shop or service helps make customers' lives easier? If so, tell us how. Here at Jeanswest we like to get to know our customers and we already know quite a few by name and we aim to get to know quite a few more. The best part of the job for me is helping customers find the perfect fit and helping them feel more comfortable when choosing jeans, with denim or even outfitting, this doesn't come naturally to everyone its fabulous to see that we have helped them feel more confident in their look, its an Amazing feeling to know we have helped!