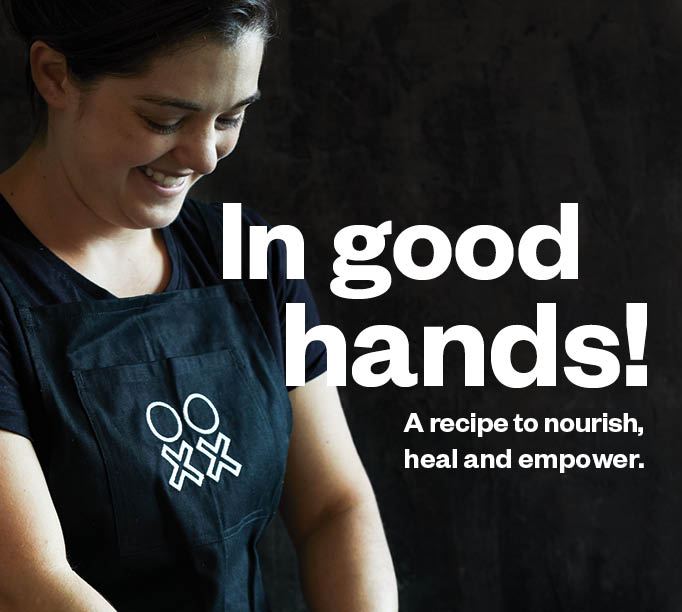 In Good Hands
This November, Charter Hall in partnership with Two Good are taking a page out of the Two Good Cookbook to help domestic violence survivors rebuild their lives.
From Thursday 7th – Friday 22nd November 2019, simply spend $30 in any specialty store or $80 in any major store to receive a free Two Good Cookbook.
Simply present your valid receipt to the Two Good Library located near Red Dot from 10am – 1pm each weekday to receive your cookbook.
Click here for Terms and Conditions
For each book that we gift to our shoppers, Charter Hall is donating funds that will support hours of employment to women living in shelters within the communities in which we operated. Our goal is to donate over 2,000 hours to the Work Work Program.
From its humble beginnings in 2015, The Two Good Co. has delivered over 10,000 beautiful meals made with love and care to women living in domestic violence refuges and supported survivors through the Two Good Co. Work Work Program.
Two Good Co. are expanding their support with the launch of the Two Good Cookbook which features a wonderful collection of curated recipes by celebrity chefs.
This Christmas, we are celebrating the Two Good Cookbook to help nourish, heal and empower these amazing women by sponsoring the Work Work Program through the purchase of 6,800 Two Good Cookbooks to give away in Charter Hall shopping centres across Australia.
The Work Work Program provides training and employment to women seeking refuge in domestic violence shelters. Help us deliver good this Christmas by taking a page out the Two Good Cookbook to nourish, heal and empower domestic violence survivors.
If you have experienced domestic violence or family violence, call 1800 RESPECT on 1800 737 732.
#InGoodHands